Essential Beard Grooming Kit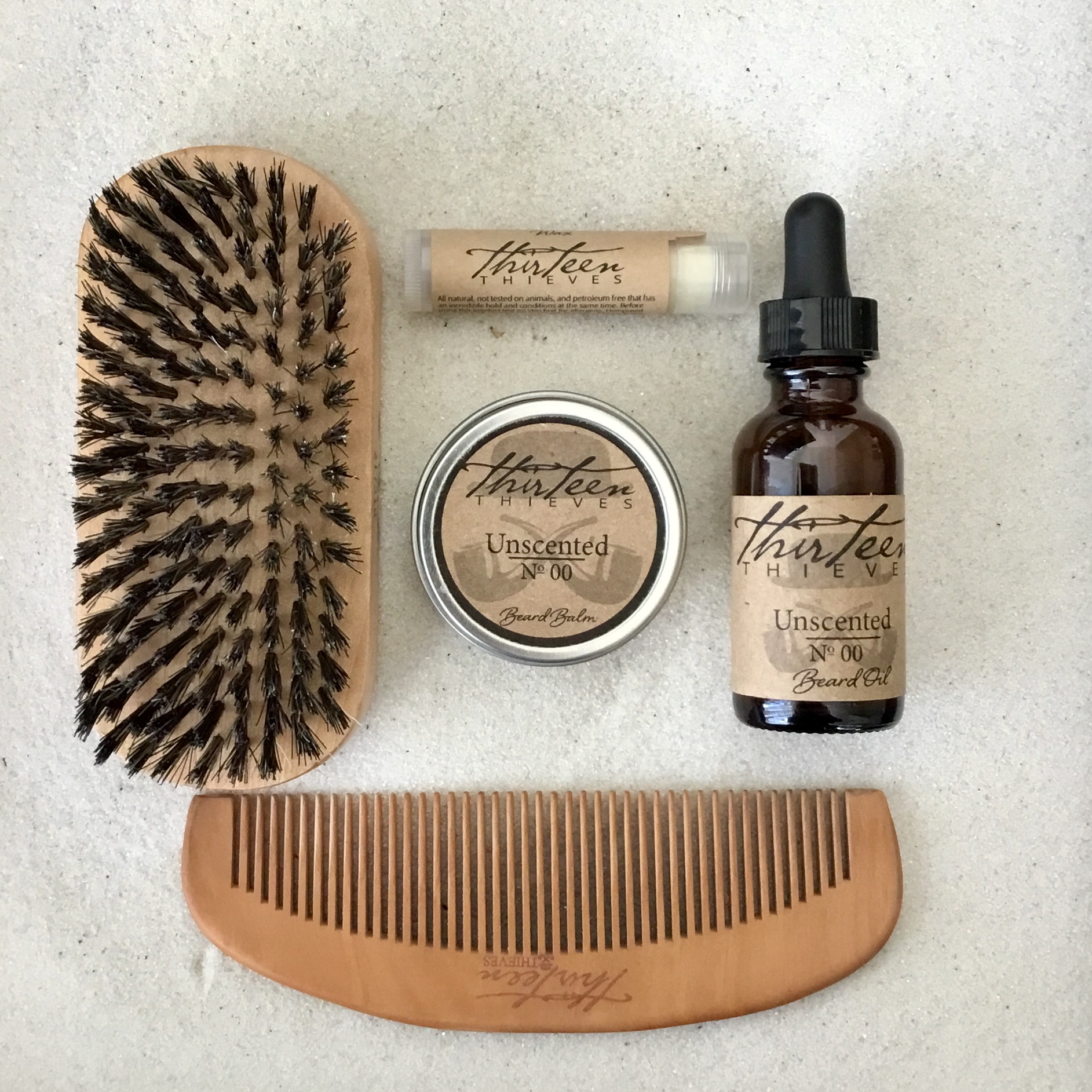 Essential Beard Grooming Kit
The Thirteen Thieves Essential Beard Grooming Kit comes with the essentials a man needs to have a fantastic beard care experience. Make maintaining healthy facial hair and skin easy with this gift set which pairs our natural, handmade beard balm and oil products along with high-quality grooming tools.
The included brush and comb help to distribute the oil or balm through your beard to keep hair well-groomed and give it a healthy shine. This essential beard care kit is the perfect holiday present, groomsman, or best man gift for any wonderfully bearded man.
Each kit includes:
• Beard oil, beard balm, AND moustache wax (your choice of scent)
• Military style boar bristle brush featuring a hardwood handle (3 x 4.5 x 1.5 inches)

• Handcrafted cherry wood beard comb (4.7 inches long x 2 inches wide)

THE SCENTS
• Unscented No 00: Our "just plain natural" option, this choice means we do not add any additional fragrance or essential oils to the blend. There will be a pleasant nutty and grassy aroma that dissipates quickly after application.


• Orange No 01: Men and women love this fresh, light, and tangy scent. Receive an energizing and uplifting boost to your daily routine when you choose this blend of orange essential oil, juicy grapefruit, and crisp bergamot. 


• Plague Doctor No 27: An infusion of clove, lemon, cinnamon, eucalyptus, and rosemary. The smell is inviting, spicy, and warm. This deliciously dark recipe was inspired by the natural herbs that doctors of the middle ages inhaled while treating those suffering from the bubonic plague.


• Wooded Spice No 29: Fall in love the minute you smell the robust, masculine combination of pine and clove essential oils. Eliminate itching and irritation with this spicy, balanced scent that will energize your attitude while giving a healthy shine to any otherwise lifeless beard. 


• Rich Forest No 34: We recreated a magnificent forest experience with pine, juniper, and cedarwood balanced with rosemary and mint to harmonize your spirit. These essential oils combine with our base formula to create a cool, manly scent and soften hair along with the skin hiding underneath.
• Vanilla Bourbon No 73; Our Vanilla Bourbon is a pleasure to the senses with a twist of creamy, warm vanilla and a welcoming bourbon essence. This oil is our best selling scent for a reason.
• Tobacco Bourbon No 77; Tobacco Bourbon has a soft, woodsy scent like fine pipe tobacco or just cut tobacco leaves, with just a whiff of cherry wood. You will also notice a fresh, citrus top and juniper berries.
SIZE options:
• 1 oz Grooming Set with 1 oz Beard Oil, 1 oz Beard Balm, and 1 Tube (.15 oz) Moustache Wax
• 2 oz Grooming Set with 2 oz Beard Oil, 2 oz Beard Balm, and 2 Tubes (.15 oz each) Moustache Wax
WARNING: MAY CONTAIN NUT/TREE NUT OILS. KEEP OUT OF REACH OF CHILDREN. NOT FOR CONSUMPTION OR INTERNAL USE. DO NOT USE ON OPEN WOUNDS. DISCONTINUE USE IF IRRITATION OCCURS. DO NOT STORE IN HOT OR HUMID CONDITIONS. TEST FOR ALLERGENS ON A SMALL PATCH OF SKIN.
The FDA has not evaluated These statements. This product is not intended to diagnose, treat, cure, or prevent any disease.